Notice: Trying to access array offset on value of type bool in /customers/b/c/0/norvect.no/httpd.www/wp-content/themes/ideas/framework/functions/framework-functions.php on line 635
5. september kl 9.00 starter rettsaken i Oslo Tinghus der "borrelioselege" Rolf Luneng kjemper for å få tilbake sin legeautorisasjon. Fra kl 8.00 arrangerer pasienter og pårørende en stille støttemarkering for Luneng utenfor Tinghuset. Siden mange er for syke til å møte personlig, sender de sko i eget fravær.
For tre år siden ble Rolf Luneng fratatt sin legeautorisasjon og Norsk Borreliose Senter ble nedlagt. En gruppe alvorlig syke pasienter mistet sitt eneste behandlingstilbud og har siden stått uten livsnødvendig helsehjelp i Norge.
– Selv var jeg nødt for å benytte meg av crowdfunding for å ha råd til behandling i Tyskland. Fra å være arbeidsufør, kan jeg i dag jobbe 30 prosent, forteller Trude Eker, som er blant initiativtakerne bak støttemarkeringen.
For "flåttsyke", er det skremmende å oppleve hvordan norsk helsevesen snur ryggen til problematikken. Et flåttbitt kan medføre mer en "kun" borreliose, men pasienter blir sjelden sjekket eller behandlet for dette. Det er uforståelig at flåttsyke med invalidiserende plager, kun skal få tilbud om to uker med antibiotika, når ungdommer med kviser får langvarig behandling med samme medisin. Norsk helsevesen forholder seg heller ikke til Borreliabakteriens mange former i sin behandlingsprotokoll. Luneng er en av svært få leger i Norge som tar pasientgruppen på alvor, og har klart å hjelpe utallige tilbake til livet. Det blir han straffet for.
Hvem er det egentlig som opptrer uforsvarlig? Staten eller Luneng? Rettsaken vil gi svar på en rekke viktige spørsmål.
– Vi som havnet i denne uvirkelige situasjonen høsten 2013 var i ferd med å miste håpet. Så stevner Rolf Luneng Statens helsepersonellnemd. Rettstaten Norge er vårt siste halmstrå! En mulighet til å snu hver stein, gjennomgå eksisterende erfaringer og kunnskap; sett opp mot retningslinjene for borreliosebehandling, sier Trude Eker.
Vi håper norsk presse vil dekke det som er årets viktigste helsepolitiske rettssak, samt komme på støttemarkeringen fra kl. 8.00.
For mer informasjon, se Support Luneng sin støtteside.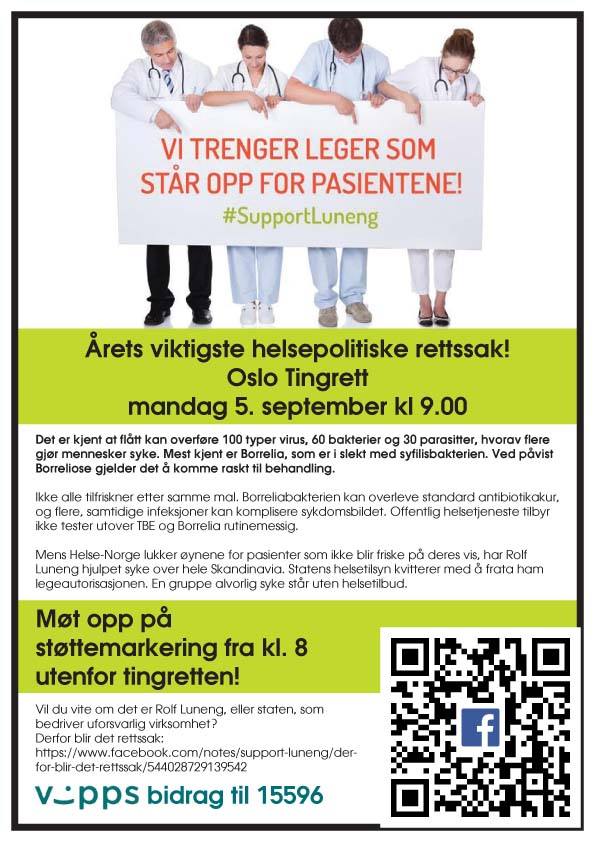 Pressetalskvinne: Trude Eker
Mail: trudeeker@hotmail.com
Tlf: 97 02 21 55