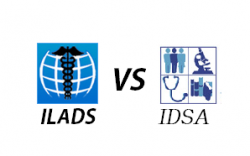 Kan borreliose utvikle seg til en langvarig kronisk infeksjon etter 2 – 4 ukers behandling med antibiotika, eller er symptomene pasienten opplever etter ferdigbehandlet infeksjon kun senskader i vev og immunsystem? Spliden i fagmiljøet springer ut fra to medisinske tilnærminger med opphav i USA.
IDSA (Infectious Diseases Society of America)
Amerikansk organisasjon grunnlagt i 1963.
Fokus: Infeksjoner generelt.
Center of Disease Control (CDC) henviser til IDSA retningslinjer for diagnose og behandling av borreliose.
IDSA hevnder at kronisk borreliose ikke eksisterer. Sykdom som vedvarer utover 2-4 ukers antibiotikabehandling anses som senskader.
Diagnose: Klinisk manifestasjon + to positive tester (ELISA + Western Blot).
Behandling: Monoterapi (én antibiotika) i normalt 10 – 14 dager (maks 28 dager).
ILADS (International Lyme and Associated Diseases Society)
Internasjonal multidisiplinær "non profit" organisasjon, grunnlagt 1999.
Fokus: Kun borreliose og co-infeksjoner.
Jobber på verdensbasis for å øke kunnskapen om diagnostikk og behandling. Fokus på opplæring. Årlig konferanse der leger og forskere fra hele verden møtes og deler oppdatert kunnskap og forskning om vektorbårne sykdommer.
Diagnose: ILADS legger vekt på kliniske vurderinger sammen med testing. En negativ test avgjør ikke om man igangsetter behandling, da nåværende tester har for lav sensitivitet.
Behandling: Ofte kombinasjonsbehandling av flere typer antibiotika og immunmodulerende medisiner (behandler også co-infeksjoner). Langvarig behandling.
Nye tall fra CDC viser at 57% av USAs leger behandler etter ILADS-modellen. Flere amerikanske stater har innført lovverk som verner leger som ønsker å behandle utover gjeldene retningslinjer, og f.eks. med langvarig antibiotika. Paul Mead, sjef for epidemiologi og borreliose-overvåking ved CDC, har uttalt følgende: "These findings confirm that health care providers are not rigidly following the IDSA guidlines and underscore the need for more education of providers regarding best treatment practices" (Pfeiffer, 2013).
De norske retningslinjene følger IDSAs syn om at det ikke er en vedvarende infeksjon og behandlingen avsluttes tidlig med det argument at langvarig antibiotika er farlig og resistensskapende. Mye av problematikken bunner i diagnostikken som på et generelt grunnlag er utilstrekkelig.
Den 26. og 27. mai 2014 arrangerer NorVect en internasjonal flåttkonferanse på Grand Hotel i Oslo, hvor verdens fremste eksperter på området kommer for å dele sin kunnskap. Organisasjonen anser dialog og kunnskapsdeling på tvers av fagmiljøer og landegrenser som nøkkelen til å skape større forståelse om sykdommene flåtten bærer med seg. NorVect ønsker å inspirere det medisinske fagmiljøet til å være nysgjerrige, åpne og nyskapende, selve drivkraften til all ny vitenskap.
Les mer om NorVect, konferansen og foredragsholderne her: www.norvect.no
Foto: NorVect