"Our findings will change the way Lyme disease is viewed by doctors and patients," said Marianne Middelveen, lead author of the published study. "It explains why the disease is more common than one would think if only ticks were involved in transmission."
In the study, researchers tested semen samples and vaginal secretions from three groups of people: control subjects without evidence of Lyme disease, individual patients who tested positive for Lyme disease, and couples engaging in unprotected sex who tested positive for the disease.
As expected, all of the control subjects tested negative for Borrelia burgdorferi in cultures of semen samples or vaginal secretions. In contrast, twelve of thirteen patients with Lyme disease had positive cultures for Borrelia burgdorferi in their genital secretions. Furthermore, two of the couples with Lyme disease showed identical strains of the Lyme spirochete in their semen and vaginal secretions, while a third couple showed identical strains of a related Borrelia spirochete in their genital secretions.
"The presence of live spirochetes in genital secretions and identical strains in sexually active couples strongly suggests that sexual transmission of Lyme disease occurs," said Dr. Mayne, who recently published the first comprehensive study of Lyme disease in Australia. "We need to do more research to determine the risk of sexual transmission of this syphilis-like organism."
http://f1000research.com/articles/3-309/v1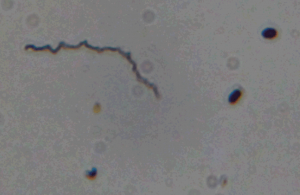 Dieterle silver stain of genital culture from Patient 12. Note darkly staining spirochete. Formalin fixed slide, 400× magnification